May 16-18, 2014 – Raleigh, NC
The Trans Jam BMX Contest Series is hosting its third stop in Raleigh, NC May 16-18 at the Got to be NC Festival.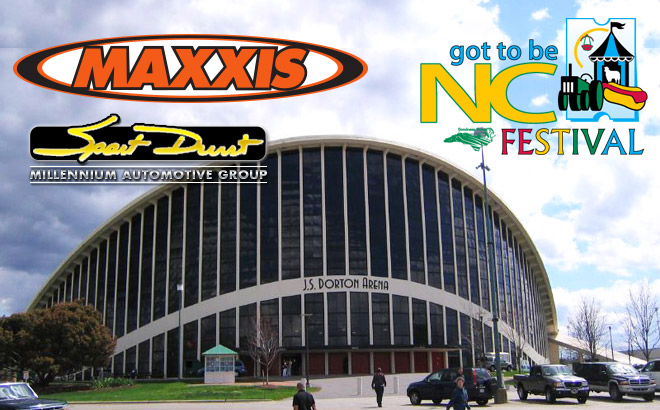 Presented by: Maxxis, Sport Durst & NC Got to Be Festival
Disciplines: This stop will include Dirt, Park, Flat (AM Flat Circuit) & Street competitions
Sponsors and vendors: Interested in selling product or promoting your company at this stop? Contact us today! info@transjambmx.com or (919) 699-6299.
Additional Information: Pre-register at least 30 days prior to the event date and receive a $5 discount on the cost of registration when you arrive at the event. No obligation to pay for registration until event day. Rider rules and requirements can be found here.
Parking: Available on the state fairgrounds. Entry through Gate 4. Additional information forthcoming.
• VINTAGE BIKE DISPLAY! Bring your old & new bikes to show off!
• VENDORS! Enjoy food & beverage vendors, apparel, and special products!
• PRIZES AWARDED TO AMATEUR CLASSES!
• PROS COMPETE FOR A PURSE!
• EVENTS FOR THE KIDS AVAILABLE! More info to come.
Hotel Information:
Group Name: Atlantic Bike Stunt Alliance
King for $79, Double for $84
Fairfield Inn Crabtree (919) 881-9800
Courtyard Crabtree (919 782-6868
*both are located near Lake Crabtree & the fairgrounds
*Schedule subject to change. Follow us on Twitter for the most up to date schedule changes on May 16-18.
Schedule Details
Friday, May 16: DIRT
2pm-3pm: Open Practice
3pm-3:30pm: Dirt Beginner / Practice: Big Jumps
3:30pm-4:30pm: Dirt Expert
4:30pm-5pm: Practice: Dirt Pro
5pm-6pm: Dirt Pro
- - - - - - - - - - - - - - - - - : - - - - - - - - - - - - - - - - -
Sat, May 17: Park & Flatland
9am: Registration Opens
9am-9:30am: Practice: Park & Flat Open
9:30-10am: Practice: Park Beginner & Flat Open
10am-10:30am: Park Beginner Practice: Flatland Beginner
10:30am-11am: Flatland Beginner Practice: Park Novice
11am-12:15pm: Park Novice Practice: Flatland Veteran
12:15pm-1pm: Flatland Veteran Practice: Park Expert
1pm-2pm: Park Expert Practice: Flatland Expert (AMFL/TJ)
2pm-3:30pm: Flatland Expert (AMFLT/TJ) Practice: Park Veteran
3:30pm-4pm: Park Veteran Practice: Flatland Pro
4pm-4:30pm: Beginner/Novice Awards
4:30pm-5:30pm: Flatland Pro / Practice: Park Pro
5:30pm-7pm: Park Pro
7:30pm-8pm: Awards Ceremony
- - - - - - - - - - - - - - - - - : - - - - - - - - - - - - - - - - -
Sunday, May 18: Street & Jumping
10am: Registration Opens
10am-10:30am: Street Open Practice
10:30am-11am: Practice: Street Beginner
11am-11:30am: Street Beginner
11:30am-Noon: Practice: Street Expert
Noon-1pm: Street Expert
1pm-2pm: Practice: Street Pro
2pm-3pm: Street Pro
3pm-4pm: Jump Contest Open Practice
4pm-5pm: JUMP CONTEST
5:30pm: AWARDS CEREMONY